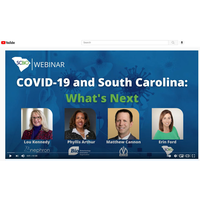 On September 9, 2021 SCBIO hosted a statewide webinar program entitled "COVID-19 and South Carolina: What's Next?". The program was attended by a large audience across South Carolina, including business leaders, healthcare executives, elected officials, and regional media.
BIO's Phyllis Arthur, Nephron Pharmaceutical's Lou Kennedy and VCOM's Matt Cannon shared their views on what obstacles we have to overcome to get through this latest surge, using science as the foundation. This discussion also addressed the science, data and real life experiences confronting us all as we manage our response to the Delta Variant of COVID-19. It's a conversation you won't want to miss if you aren't sure about vaccines, antibodies, masks and more.
Enjoy the program by clicking here.
---