SCbio and the State of South Carolina were center stage during Swiss Biotech days in Basel, Switzerland, a conference that hosted 1,000 attendees this week.
South Carolina demonstrated its willingness to be on the leading edge and open to partnerships and unique collaborations. The list of dignitaries that visited with Team SC was impressive, headlined by the President of Switzerland, Ignazio Cassis. It also included Eva Weigold Schultz, former Charge d'Affaires at the U.S. Embassy in Bern, and global life sciences leaders like AMGEN's Henrik Asmussen, Dr. Suzanne Grund, of Geistlich Pharma, and many more.
I had the opportunity to talk with President Cassis and reinforce our state's commitment to international investment and collaboration in the life sciences sector, which benefits both countries and, ultimately, translates into better patient outcomes. As a former physician with a master's degree in public health, he has a unique perspective on this industry.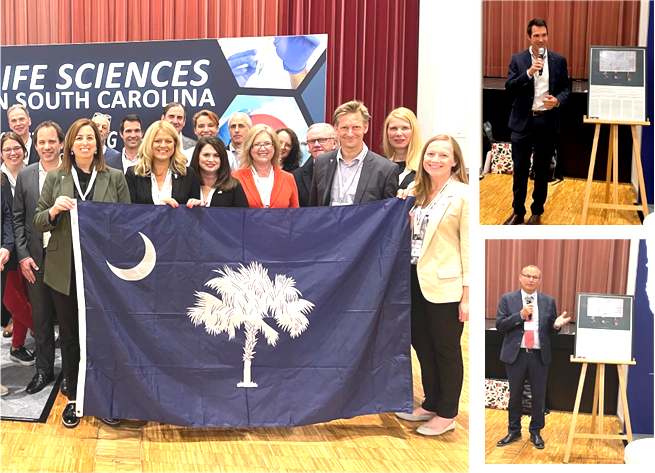 A roundtable discussion with Swiss Biotech Association President Michael Altorfer and other leaders highlighted our current biotech firms with a presence in both South Carolina and Switzerland. Belimed Life Science CFO Simon Engeli and CeQur CFO/EVP Douglas Gunthardt spoke about the positive business climate in the Palmetto State and the tremendous support provided as their companies expanded to the US.
With over 30 meetings in two days, and as a featured guest of the conference, our team of SCbio's Carla Whitlock, Central SC Alliance's David King, Charleston County's Jennifer Brown (also representing CRDA), Sebastian Nowack of the South Carolina Department of Commerce European Office in Munich, Susanna Auf de Maur (a South Carolina native and partner at Kaufmann Ruedi) and with support of the Upstate SC Alliance, successfully laid the groundwork for future investments. We found an attentive audience as we shared the story of our impressive growth, burgeoning innovation ecosystem, and new infrastructure that is being created to support our industry.
We look forward to our return trip next year and to continued collaboration with the Swiss Biotech Association as we learn from each other and support the companies making a difference with innovative technologies and patient outcomes.
Danke Schweiz…
Erin Ford
SCbio COO