Join SCBIO and South Carolina's Legislative Leaders for Conversation & Connecting April 25 in Columbia!
Join SCBIO on April 25, 2018 for the Life Sciences Legislative Reception in Columbia, SC.  The reception is graciously sponsored by Nephron Pharmaceuticals, and hosted by venue sponsor Parker Poe.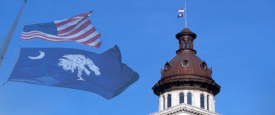 Statewide business leaders and a dynamic group of public/private stakeholders will meet with South Carolina's legislative leadership, hear from House and Senate leaders, and share information about the impacts and opportunities for growth of the $11.4 billion life sciences industry in South Carolina. 
The life sciences industry is fueling growth in South Carolina:
$11.4 billion annual economic impact here in South Carolina
Over 15,000 direct jobs and 40,000+ total jobs
Average wage of $58,000 - $78,000 annually
400+ SC life science firms and 1,500+ related firms

We'll close the afternoon with delicious refreshment and stimulating conversation.  Space is limited and only available to SCBIO Members and invited guests.  To request a reservation, please email us. 
Special Thanks to Our Reception Sponsor:

Special Thanks to Our Venue Sponsor: