Join SCBIO for Life Sciences Boot Camp - February 27, 2020!
Join SCBIO and an illustrious panel of subject matter experts for a full day program of expert insights, continuing education and fabulous networking at  Life Sciences Boot Camp: Insights On SC's Fastest-Growing Industry. The program will be held February 27, 2020 in Columbia, S.C.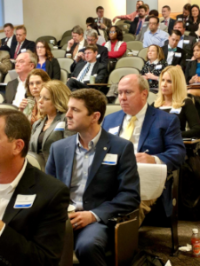 You'll come away from this packed program with new insights and actionable information -- plus great new relationships with industry thought leaders -- that will help you improve your organization's involvement and success in South Carolina's $11.4 billion industry! CLE credits may be earned for most sessions.

Learn from Industry Leaders.
Top life sciences industry leaders and speakers will be here. The agenda encourages easy access between educational sessions for connecting with speakers and peers.  In one day, you'll learn more than you ever thought possible about South Carolina's fastest-growing industry sector... at a fraction of the cost of comparable continuing education programs.
Why YOU Should Attend.
If you are a life sciences industry professional seeking to broaden your industry knowledge... a professional from services, academia or economic development who would benefit from learning "what you need to know" about life sciences... an attorney seeking CLE credits... or a business person interested in tapping into the healthcare, pharmaceuticals, next-gen medicines, medical devices, diagnostics, testing, health IT, advanced manufacturing and other industries, you need to be here. If your organization is an SCBIO member, or if you are a Pursuit Pass holder, you can attend free or at greatly reduced rates!
Join Us at SCBIO Life Sciences Boot Camp.
Come for new connections… old friends… fabulous networking… incredible insights… continuing education credit…and (of course) learning and fun.  Attendees from 2019 called it one of the best learning experiences of their careers.
Register Now.
SCBIO Investor Organizations receive one registration free of charge. 
Pursuit Pass holders receive one registration free of charge.
SCBIO Individual Members and additional attendees from Investor organizations pay only $50 for the entire day. 
And Non-Members can attend for just $125!  Register now.

Don't delay as space is limited.  Click here to register and secure your spot now!
 
Speakers & final topics will be announced shortly.  The full Agenda will include:
Kickoff & Welcome
Life Sciences Economic Development:  Attracting & Growing Top Companies in SC
Resources & Experts:  Who to Know to Grow Your Life Sciences Organization
Workforce:  Recruiting & Retaining a World-Class Team   
How to Bring MedTech Products to Market
Early Stage Funding:  Accessing SBIR-STTR Capital 
Navigating the FDA: An Overview of  Gaining Product Approvals
Planning, Building & Optimizing Your Life Sciences Facility 
Getting Reimbursed for My New Technology 
South Carolina Life Sciences 2020:  A Look Forward