Join SCBIO for Life Sciences Boot Camp - March 14!
Join SCBIO and an illustrious panel of subject matter experts for a half-day program on South Carolina Life Sciences Boot Camp: Essentials of a Growing Industry. The program will be held March 14, 2018 at the USC Arnold School of Public Health in Columbia, S.C.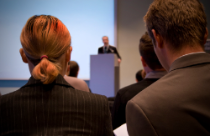 You'll come away from this packed program with new insights and actionable information -- plus great new relationships with industry thought leaders -- that will help you improve your organization's involvement and success in South Carolina's $11.4 billion industry!
Engage Your Community.
Top life sciences industry leaders will be here. The agenda encourages easy access between educational sessions for connecting with speakers and peers.  In half a day, you'll learn more than you ever thought possible about South Carolina's fastest-growing industry sector.
Who Should Attend.
If you are a professional from industry, academia or economic development and would benefit from learning "what you need to know" about healthcare, pharmaceuticals, next-gen medicines, medical devices, diagnostics, testing, advanced manufacturing and more, you need to be here.  And if your organization is an SCBIO member, you can attend absolutely free!
Why Come to SCBIO Life Sciences Boot Camp.
Come for new connections… old friends… fabulous networking… incredible insights… continuing education…and (of course) learning and fun.
Register Right Now.
SCBIO Members attend free of charge.  If your organization is an SCBIO member, you also can register for free.  Register now.

Non-Members pay only $75 while space remains.  Click here to register and pay.

Space is limited.


The Morning Agenda:
8:30am  -- Registration and networking, light breakfast provided
8:55am  -- Kickoff,  agenda - Sam Konduros, CEO, SCBIO
9 – 9:30 -- Life Sciences industry Economic Development Incentives - Burnie Maybank, Author of the SC Life Sciences Act; Partner, Nexsen Pruet    
9:35 – 10:05 -- M&A 101 in the Life Sciences Space - Stephanie Yarbrough, Partner, Womble Bond Dickinson
10:10 – 10:40 -- FDA 101 for Medical Devices - Kathryn Cole Becker, Principal, Translational Science Solutions
10:40 – 11:00 -- Break
11:00 – 11:30 -- IP Essentials for Life Sciences - Jeff Stover, Partner, Haynsworth Sinkler Boyd
11:35 – 12:05pm -- Introduction to Life Science Innovation & Entrepreneurship - John Osborne, Partner, Good Growth Capital
12:05 – 12:25 -- Public Policy Hot Topics - Speaker to be announced
12:25 – 12:30 -- Wrap-up and Adjourn.