On a day when dignitaries gathered to mark the grand opening of a new home for the Medical University of South Carolina's College of Pharmacy and upgrades to the James W. Colbert Education Center and Library, students were already making the most of the changes. Third-year pharmacy students Alexandra Otto and Madison Price relaxed in a sunny study nook in their brand-new area.
The change in atmosphere from the old building to the new one is dramatic, Otto said. "Oh, my goodness. Like night and day. The old pharmacy building has no windows, so it's very hard to study in there. Here, you get all the natural lighting, and it's very centralized. You're on campus. We used to have to walk to campus from Calhoun."
The old pharmacy school, at 280 Calhoun Street, sits on the edge of MUSC's grounds. The new one overlooks the grassy central area known as the Horseshoe.
Provost Lisa Saladin, Ph.D., described how it became part of that prime location. "The College of Pharmacy is two floors added to our Basic Sciences Building to give the College of Pharmacy a new home that was desperately needed, since their old building was built in 1939."
That new home has a lot of windows, as the students mentioned, plus:
Meeting space that can serve as a convention hall.
Three conference rooms with beautiful views.
The Center for Clinical Evaluation, Teaching and Simulation.
The Center for Experiential Education.
Medication therapy management rooms.
A catering kitchen.
Study rooms.
MUSC President David Cole, M.D., said the opening was years in the making. "There were so many variables involved: supply chain issues, workforce challenges, unexpected things like a pandemic – all of the above."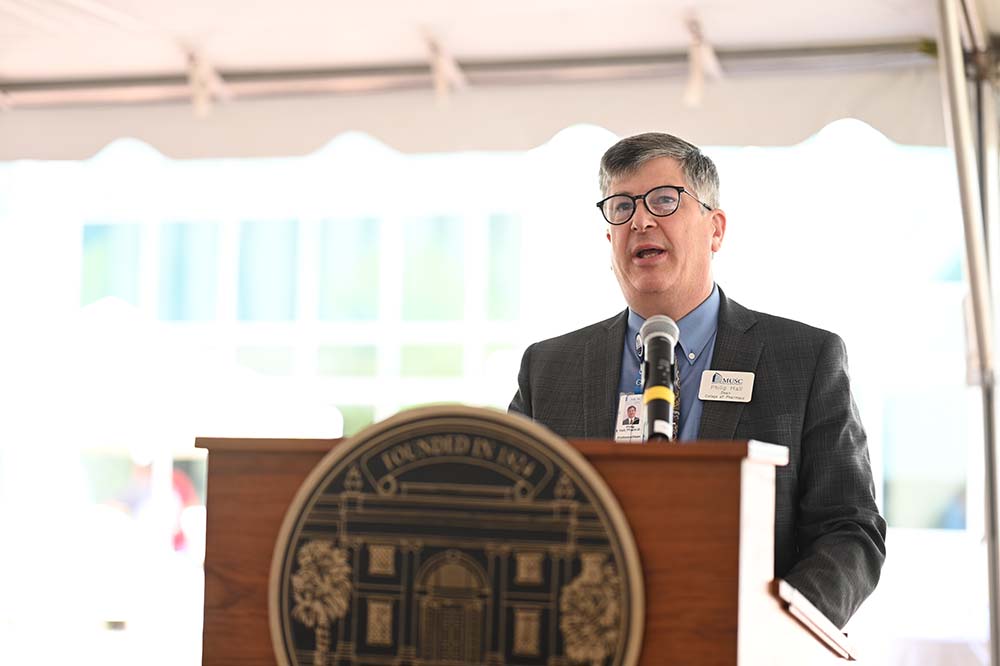 College of Pharmacy Dean Philip Hall, Pharm.D., was thrilled by the result. "This building gives a magnificent new face to the College of Pharmacy, one that looks to the future. Today's pharmacists are part of a collaborative interprofessional health care field unimagined decades ago. Our new home is designed for attracting, educating the pharmacists of tomorrow, those who will lead the profession to new discoveries, new ideas and new endeavors," Hall said.
The James W. Colbert Education Center and Library sits close to the new College of Pharmacy site. Saladin described the changes there as well. "We wanted to overhaul the James W. Colbert Education Center and Library to expand and enhance student learning and study space."
Saladin said that overhaul included:
Doubling the number of study rooms.
Adding three more classrooms.
Bringing in almost 200 new furniture seating options for students to study in.
More than doubling the number of student lockers.
The library and education center also has a coffee shop, the Innovation Station tech store, University archives, fully equipped patient rooms for students to get firsthand experience, a simulation center, treadmill workstations and more.
James Lemon, D.M.D., MUSC Board of Trustees chairman, said it was a welcome upgrade. "Our faculty, and especially our students, deserve this. They're among the best and brightest in the country."