Ivan Young, 14, likes drawing, video games and military history. Visiting the USS Yorktown in Mount Pleasant, he knew the answers to all of the questions the retired veterans threw his way, said his mom, Kelly Knight.
"He's very nerdy," she said affectionately.

His dad, Aaron Young, said Ivan has always been a sweet and kind kid who puts others first – "I know he doesn't get that from me," he laughed.

"He's always been an old soul," Young said.

Ivan wants to be an architect when he grows up. And thanks to a multidisciplinary team that pooled the expertise and resources of both adult and pediatric physicians at MUSC Hollings Cancer Center and MUSC Children's Health, the path is now clear for him to do almost anything he wants, with few physical reminders of the extraordinary lung cancer surgery he underwent in 2021.
Ivan had suffered from severe, debilitating migraines since he was about 6 years old. They got so bad that his stepmom brought him in for bloodwork to try to find a cause. The only thing that was off was an exceptionally high sedimentation rate in his blood, which usually indicates inflammation, but further tests didn't reveal anything. A few months later, he started having trouble breathing.

"At the very beginning, I was really wheezy, and it felt really hard to breathe," he said.
His mother brought him to a hospital near his home in North Myrtle Beach, where he was diagnosed with pneumonia. But the antibiotics didn't help. Knight insisted on an X-ray, which showed a mass of some sort. The doctors there said that Ivan needed to see a pediatric pulmonologist, so Young and Knight drove Ivan to Charleston for additional scans. After the chest CT, the three got back into the car to hit the road back to North Myrtle Beach.

"We were almost out of Charleston, and they called and said, 'Turn around, come back,'" Ivan said. "And they told my mom and dad it was a tumor."

Ivan and his parents were sent directly to the Emergency Department at MUSC Shawn Jenkins Children's Hospital (SJCH) to be admitted.

The mass would turn out to be a mucoepidermoid carcinoma growing in his airway. Mucoepidermoid carcinoma is a salivary gland type of cancer that accounts for about 0.2% of lung tumors. It's not connected to smoking, and about 20% of these tumors are found in people under the age of 20.

The team now had to figure out the best way to remove the tumor.
At first, doctors thought Ivan would need a thoracotomy – a type of surgery where a large incision is made in the side of the chest and the muscles pulled back, exposing the organs in the upper body.

But thoracotomies come with significant recovery time as well as extra risks for growing children. In addition, the pediatric cardiothoracic team specializes in congenital heart conditions, not lung surgeries. The pediatric surgeons and lead pediatric oncologist Michelle Hudspeth, M.D., decided to consult with Barry Gibney, D.O., who specializes in adult lung cancer and lung transplant surgery.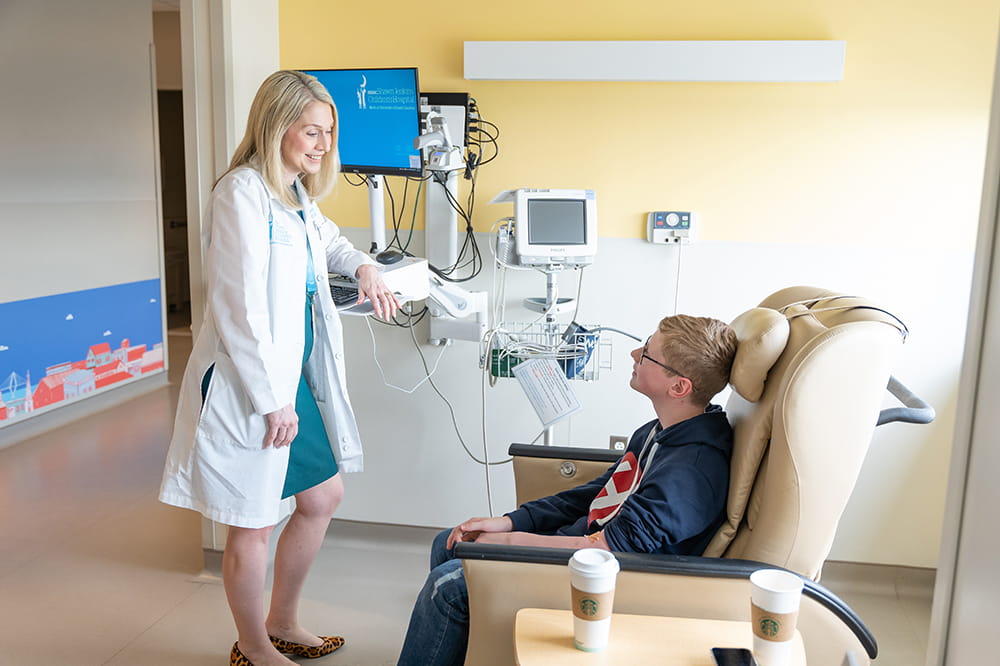 Gibney started using a robot for his lung surgeries in 2019 and quickly realized its benefits. At this point, he's performed more than 400 surgeries using the robot. Altogether, he and his partners, Ian Bostock, M.D., and Kathryn Engelhardt, M.D., have performed about 500 of the robotic surgeries, making Hollings one of the busiest robotic lung surgery centers in the Southeast.